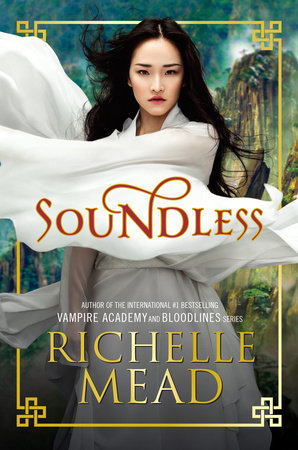 Autora: Soundless
Sem Lançamento em Portugal aquando da Revisão
Sinopse
In a village without sound…
For as long as Fei can remember, no one in her village has been able to hear. Rocky terrain and frequent avalanches make it impossible to leave the village, so Fei and her people are at the mercy of a zipline that carries food up the treacherous cliffs from Beiguo, a mysterious faraway kingdom.
When villagers begin to lose their sight, deliveries from the zipline shrink. Many go hungry. Fei and all the people she loves are plunged into crisis, with nothing to look forward to but darkness and starvation.
One girl hears a call to action…
Until one night, Fei is awoken by a searing noise. Sound becomes her weapon.
She sets out to uncover what's happened to her and to fight the dangers threatening her village. A handsome miner with a revolutionary spirit accompanies Fei on her quest, bringing with him new risks and the possibility of romance. They embark on a majestic journey from the peak of their jagged mountain village to the valley of Beiguo, where a startling truth will change their lives forever…
And unlocks a power that will save her people.
Opinião
Mais de um mês que eu levei para ler este livro que nem chega às 200 páginas!!! E não é que o livro fosse mau, mas eu procrastinei, e procrastinei... chegaram a haver semanas que eu nem peguei nele. Tenho pena de só lhe ter dado 3 estrelas, é mais um 3.5 (e se calhar chegaria a 4, se não tivesse demorado tanto tempo), porque gostei bastante da história, e para mim, em termos de escrita, este é o melhor livro da autora.
Mais uma vez quando faço revisões, não posso contar muito porque a história é curta. Posso dizer que gostei bastante das personagens principais, se bem que a obcessão que a Fei tinha com a irmã e em salvar a irmã já me estava a chatear um bocado, parecia que a irmã (mais velha) era uma atadinha e não conseguia fazer nada por ela própria; gostei BASTANTE do Li Wei *blush* mas o que eu gostei mais nesta história toda foi o facto de não se centrar no romance dos dois. Sou uma grande fã de romance, adoro quando os fofinhos ficam juntos, mas foi muito "refrescante" ler uma história que não se baseásse apenas no amor e sim em todo um conjunto valores da personagem principal.
Não é um livro perfeito, não, mas é uma história muito bonita, com mitologia chinesa (que tem uma criatura que eu já tinah visto e nunca tinha sabido o nome, aprendi com esta história) que pode ser lida por qualquer pessoa, mesmo que não seja fã de coisas asiáticas.